We appreciate your patience and hope you find our site informative and easy to use. Wysi®-Baby is available at
better juvenile retailers
across Canada, including
Babies 'R Us
stores. For more accurate information contact
Kidcentral Supply.
In the United States it will soon be available through EcoMom and found on Amazon and through EcoMom.com and GreenCupboards.com.
---
Wysi® Baby Starter Kit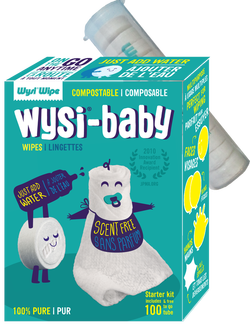 Take the convenience and cleanliness of a fresh wash cloth, everywhere you go. Minimize exposure to unwanted ingredients on your baby. If a fresh water clean isn't enough, make a
homemade solution
with ingredients from your kitchen.
Every
Wysi Baby Starter Kit
contains:
100 cloth-like wipes, plus

one refillable bonus tube

Extra tubes sold separately below.
---
---

Ours order are processed in currency of where it will be delivered.
Follow links to our Shopping cart where you can choose a variety of Wysi product in different sizes and packaging.
Wysi® Baby To Go Tube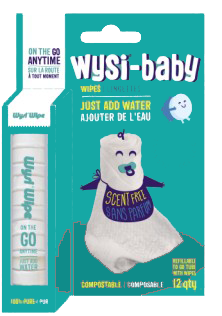 Imagine a clean wash cloth, at your fingertips, whenever you need it. Convenient flip-top tube keeps
one dozen
fresh wash cloths within reach and the pocket size tube fits almost anywhere. Extra tubes are like having a fresh linen closet -anywhere- you could appreciate it.
Diaper bag
Day pack
Stroller
Console in your vehicle
Purse
Camper



Quick tip:
Wysi is perfect on public high-chairs. Ask server for a vinegar packet. Wet Wysi and wipe down tray and chair.

---
---